Promotional Materials
Gain top quality exposure for your book.
Now you can mail a full-color postcard about your book to family, friends, bookstores, and more!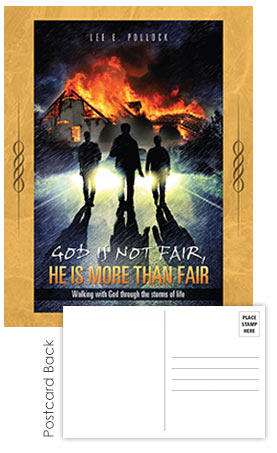 Xulon Press makes it fast, easy and affordable for you to print a postcard featuring your very own book cover design. Imagine how your book sales would multiply if you could announce your book by mail with a one-of-a-kind postcard.
By using the power of direct mail marketing, you can sell more books! It's inexpensive and we make it as easy as clicking a button.
Our postcards are high-quality and full-color. We take your beautiful book cover design and put it on the front of the postcard. Then you get to write special messages on the back after you receive them from us. Don't let your book go unnoticed! Order your promotional postcards today and let everyone know about your book!
Estimated time from order placement to order delivery is 2-3 weeks. These postcards measure 5.5 x 4.25 inches and are printed on card stock. The book cover image used on these postcards is the final, author-reviewed cover that appears on your book. Color variance between the actual book cover and the image on the card should be expected. Xulon Press cannot honor special requests concerning design or presentation. Once submitted, orders cannot be changed. There can be no refunds or cancellations for postcard orders once placed.